CHINNAR WILDLIFE NATURAL RESORT
Chinnar Wildlife Nature resort
Officially acknowledged as nature reserve in 1984, this famous and protected forest lies in the rain shadow of the western Ghat and can be found 18 km north of Marayoor on the Udumalpett street. So, Marayoor basically is the gate leading to this area.
Rajamala, Munnar, Kanthalloor – the land of apple trees is a nearby located sight.
Mannavanchola
The largest Shola forest in Kerala is an evergreen rain forest situated close to Kanthalloor. It's Kerala's only forest with naturally indigenous sandalwood trees. The low amount of rain is ideal for uninhibited growth potential of the country's best sandalwood trees.
Sandalwood oil is extracted from the roots and the wood of the sandalwood tree (Santalum Album). Sandalwood oil, also known as "liquid gold", is a popular perfume among the wealthier citizens. The sandalwood factory under the management of the Forest Department surely is worth paying a visit to.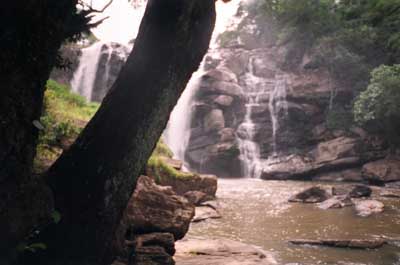 Thoovanam Waterfall
Being a place bursting with adventure and romance, the spectacular Thoovanam waterfalls invite visitors to relish the beauty and freshness of an ideal picnic location. Located deep within the Chinnar wildlife reserve, the majestic Thoovanam waterfalls provide a spectacular view for tourists. The waterfalls originate from the river Pambar which runs through the eastern part of the nature reserve. Their huge silver cascades are a breathtaking and unforgettable experience for any visitor.
Kovilkadavu Waterfall
These waterfalls can be found 4 km from Marayoor and are surrounded by beautiful hills. Many smaller rivers converge there and form these two enormous waterfalls. Resting here, you'll only hear the thundering rushing water and breath in the fantastically fresh air.
Muniyaras
The Muniyaras or stone coffins date back to the early stone ages. Rama's, Sita's and the Pandava's legendary travel also is clearly illustrated there. Also, caves, cave paintings and tunnels have been found underground.